The study shows that the COVID-19 epidemic ignited the increase in FAB spending in 2020 by accelerating digital transformations around the world, and the increase is expected to continue in 2021 as well.
Investments in 300 mm diameter chip factories will increase by 13% this year and even exceed the previous record set in 2018 and will also record another strong year in 2023, This emerges from an updated study by the SEMI organization.
The study shows that the COVID-19 epidemic ignited the increase in FAB spending in 2020 by accelerating digital transformations around the world, and the increase is expected to continue in 2021 as well.
"The COVID-19 epidemic is accelerating the sweeping digital transformation in almost every conceivable industry and reshaping the way we work and life," said Agit Manucha, President and CEO of SEMI. "Expected peak expenses and the 38 new pubs reinforce the role of semiconductors as a bedrock of leading technologies that drive this change and promise to help meet some of the world's biggest challenges."
Most of the growth comes from the growing demand for cloud services, servers, laptops, games and technology in the healthcare field. Rapidly evolving technologies such as 5G, Internet of Things (IoT), vehicles, artificial intelligence (AI) and machine learning that have continued to increase demand for faster connectivity, large data centers and big data that have also contributed to the increase in demand.
Growth in semiconductor investments will continue in 2021, but at a slower rate of 4% (annual). The report takes into account previous cycles in the industry, and therefore it also anticipates a slight slowdown in 2022 and a further slight slowdown in 2024, after a record $ 70 billion in 2023. See Figure 1.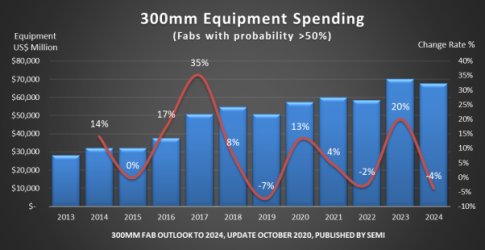 Figure 1: Expenditure on equipment for the production of 300 mm diameter chip slices between 2013 and 2024
Adding 38 Fabs 300mm new
SEMI's forecast for 2024 is that the chip industry's capacity will increase by 38 300 mm plants between 2020 and 2024, a conservative forecast that does not take into account low – probability projects or rumors. In the same period, production capacity increased by 1.8 million slices and will reach over 7 million. See Figure 2. Of these, 11 of the plants will be established in Taiwan and eight in China. The chip industry will stand at 161 300 mm plants by 2024.
Figure 2: 300 mm capacity and pub count for 2015, 2019 and 2024
Increase in expenses by product segment
The memory chips make up the bulk of the increase in expenses of great 300mm factories. Actual investments and forecast show a steady increase of 8-9% each year between 2020 and 2023, with a stronger increase of 10% expected in 2024.
The contribution of DRAM and 3D NAND to investments in 300 mm plants will be non-uniform between the years 2020 and 2024. However, Logic / MPU investments will see a continuous improvement between 2021 and 2023. Power chips will be the most prominent segment in 300mm investments with growth of more than 200% in 2021 and double-digit growth in 2022 and 2023.
Growth in capacity and expenditure by region
China will rapidly increase its global share in capacity by 300 mm, from 8% in 2015 to 20% in 2024, reaching 1.5 million 300 mm slices in the last year of the forecast period. While non-Chinese companies will use much of this growth, Chinese-owned organizations are accelerating their capacity investments. These companies will account for about 43% of China's capacity by 2020, a rate that is expected to reach 50% by 2022 and 60% by 2024.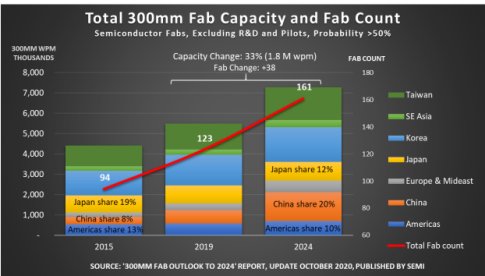 Japan's share of installed capacity of 300 mm continues to decline, from 19% in 2015 to 12% in 2024. The US is also expected to shrink from 13% in 2015 to 10% in 2024.
The largest regional investors will be Korea, with investments ranging from $ 15 billion to $ 19 billion, followed by Taiwan, which will invest between $ 14 billion and $ 17 billion in 300mm plants, followed by China, with investments of between $ 11 billion and $ 11 billion. $ 13 billion.
The steepest increases in investment between 2020 and 2024. The Europe / Middle East region will lead the group with impressive growth of 164%, followed by Southeast Asia with 59%, America with 35%, and Japan with 20%.